Certified B Corporations are considered to meet the highest standards of verified social and environmental performance, public transparency, and legal accountability to balance profit and purpose. B Corps are accelerating a global culture shift to redefine success in business and build a more inclusive and sustainable economy.
Society's most challenging problems cannot be solved by government and non-profits alone. The B Corp community works toward reduced inequality, lower levels of poverty, a healthier environment, stronger communities, and the creation of more high quality jobs with dignity and purpose. By harnessing the power of business, B Corps use profits and growth as a means to a greater end: positive impact for their employees, communities, and the environment.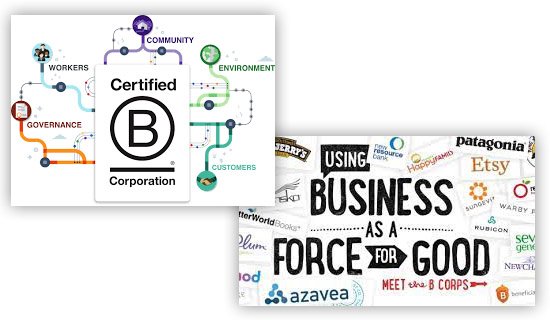 B Corps form a community of leaders and drive a global movement of people using business as a force for good. The values and aspirations of the B Corp community are embedded in the B Corp Declaration of Interdependence.
The B Corp Declaration of Interdependence
We envision a global economy that uses business as a force for good.This economy is comprised of a new type of corporation – the B Corporation, which is purpose-driven and creates benefit for all stakeholders, not just shareholders.
As B Corporations and leaders of this emerging economy, we believe:
That we must be the change we seek in the world.
That all business ought to be conducted as if people and place mattered.
That, through their products, practices, and profits, businesses should aspire to do no harm and benefit all.
To do so requires that we act with the understanding that we are each dependent upon another and thus responsible for each other and future generations.
B Corp Certification
B Corp Certification doesn't just evaluate a product or service; it assesses the overall positive impact of the company that stands behind it. And increasingly that's what people care most about.
Certified B Corporations achieve a minimum verified score on the B Impact Assessment—a rigorous assessment of a company's impact on its workers, customers, community, and environment—and make their B Impact Report transparent on bcorporation.net. Certified B Corporations also amend their legal governing documents to require their board of directors to balance profit and purpose.
The combination of third-party validation, public transparency, and legal accountability help Certified B Corps build trust and value.
The Benefits of Forming a B Corp
More Control
With a B Corp, your investors know from the get-go that your goals are much larger than turning a profit. This gives you greater latitude to manage your business in the manner you desire and focus on producing the results that are most meaningful to you.
More Credibility
You can't just claim to be sustainable or socially conscious; you have to prove it. And this means consumers and other businesses can trust that companies with B Corp status aren't just claiming to benefit their community. They're walking the walk.
Uncovering Areas of Improvement
You can't manage or improve what you can't measure. For some B Corps, the certification process shines a light on areas of improvement that they otherwise might not have considered.
Building Social Capital
Those internal improvements can help business owners run their companies better. But being a B Corp also sends a clear message to the outside world, whether that's to potential customers, partners or hires.
A Like-Minded Tribe
One of the biggest and most unexpected rewards of being a B Corp, business owners say, is being part of a community of like-minded peers that they can learn from and share their own ideas with.
How we can help
The B Corp Assessment is one that you can do yourself, and the same for certification submission. What we find though, is that a number of organisations lack the resources to be able to effectively get all necessary requirements in place not just to complete the assessment, but to attain the certification, and maintain the standards to re-certify.
We can offer a range of support irrespective of whether you choose to go it alone, or want support.
Some of what we offer includes:
Consultations to explain the process and requirements to get you started
Alignment of company goals with strategy and KPIs
Policies, and implementation training
Systems development to integrate mechanisms for assessment and reporting
Impact assessments and systems to integrate into day-to-day operations
Get in touch to find out how we can help.